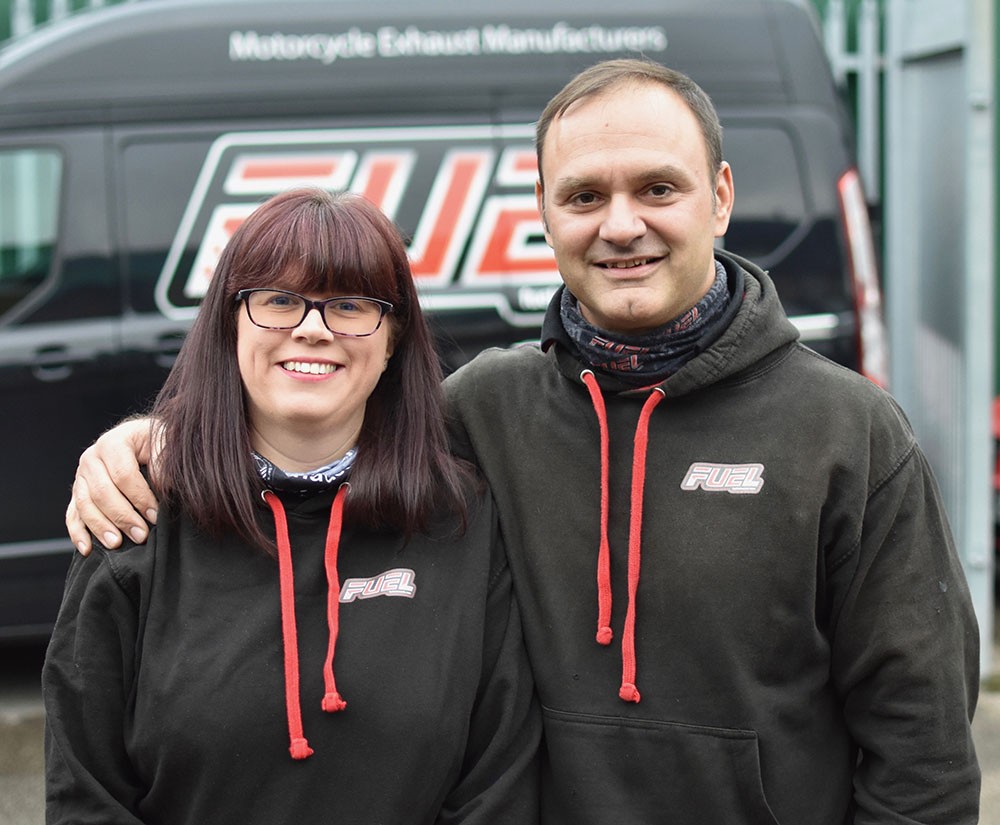 About Us
Quality UK made Aftermarket Motorcycle Exhausts
Are you ready to change / upgrade that big, ugly standard OE exhaust? Have you been searching for a reputable company with the experience, products and aftersales service to satisfy your exhaust requirements? Look no further, you have found the perfect company that can deliver all of the above! Read on to find out why our existing customers return to purchase year after year!
Interesting facts
1. In 1887 Yamaha started as a piano manufacturer
2. Arai helmets started as a hat making company in Japan in 1926
3. Honda began selling pushbikes fitted with a two stroke 50cc engine in 1946
4. Suzuki originally began making weaving looms for Japans silk industry in the early 1900s
Fuel Exhausts started trading in 2001 and is run by husband and wife team Damian and Louise. In the early days we started trading from an old chicken shed on a farm producing mostly one off exhaust systems. The company has grown steadily increasing product ranges, exhaust styles, sizes and finishes but importantly still focusing on a great first time fit, a great sound, great build quality with aftersales service second to none.
Damian and Louise have built a company that focuses on customer satisfaction being paramount. "All customers are important to us whether you spend £20 or £200 everyone is treated the same".
The early days
When we first started trading we used to pack up our exhausts and parts into the boot of the car, set off at 4am in the morning to trade at autojumbles, displaying and selling our wares on pasting tables, around the country. We didn't earn much money but we loved doing it! We gradually attended larger events including the BSB Moto GP and Superbike rounds, Ally Pally motorcycle show in London and then Excel, eventually leading on to exhibit for many successful years at the International Motorcycle and Scooter Show / Motorcycle Live at the NEC in Birmingham. Exhibitions were a great success for the company because customers could see the build quality and surface finish first hand whilst speaking to a knowledgeable member of the Fuel team.
Moving on
After spending 10 years in the chicken shed on the old farm we decided to move to new premises on Fell View trading park in Kendal. Easier access for customers to visit and the novelty of our own toilet on the premises sealed the deal for the move! (This might sound strange but for 10 years we shared a communal toilet…. Not much fun!). Over the years we came to outgrow our present unit, due to purchasing new equipment and machines, space was at a premium. In 2017 we completed an extension to our existing workshop and now have more space to manufacture and display our products!
The present day
To this day, Damian continues to design, develop and manufacture the exhausts in house. We use only UK based companies to supply the best raw materials available. They are then bent, formed, assembled, pressed, finished by hand and welded to close tolerances ensuring a perfect fit every time. All these processes are carried out in-house by our skilled team. Louise handles all enquiries, customers aftersales and support, purchasing, accounts and will even make visitors a brew if you are nice to her! She ensures all products, large or small, are packaged and sent correctly, handles the day to day running of the business and even helps out in the workshop if we need a hand.
So there we have it... 20 years on and we are still manufacturing high quality exhaust products and shipping worldwide on a daily basis. We are still a small but very dedicated team who strive to provide a fantastic product with a second to none customer service.
Why do we do this? BECAUSE WE LOVE WHAT WE DO!
So why not follow in the footsteps of thousands of other happy customers, make a 'sound' investment and buy a Fuel exhaust for your bike today.
Check out our blog for other videos which you may find interesting... FUEL BLOG!
Image credit - Justin Hayzelden.