New Finish - Ceramic Black
Posted in Fuel News
Our powder coated black stainless has been an extremely popular finish since we introduced it back in 2013. As time moves on so does technology and as UK manufacturers of high-quality motorcycle exhausts, we are always striving to improve our processes to produce a superior product for your beloved machine.
We are super excited to announce that we have been working closely with the UK's largest leading high-performance ceramic exhaust coating manufacturer and will be upgrading all our black stainless exhausts to a ceramic black finish from November 2018.
Many motorcycle brand manufacturers, including Triumph and Ducati, along with renowned motorsport teams ceramic coat their OEM exhaust systems and have been doing so for a number of years.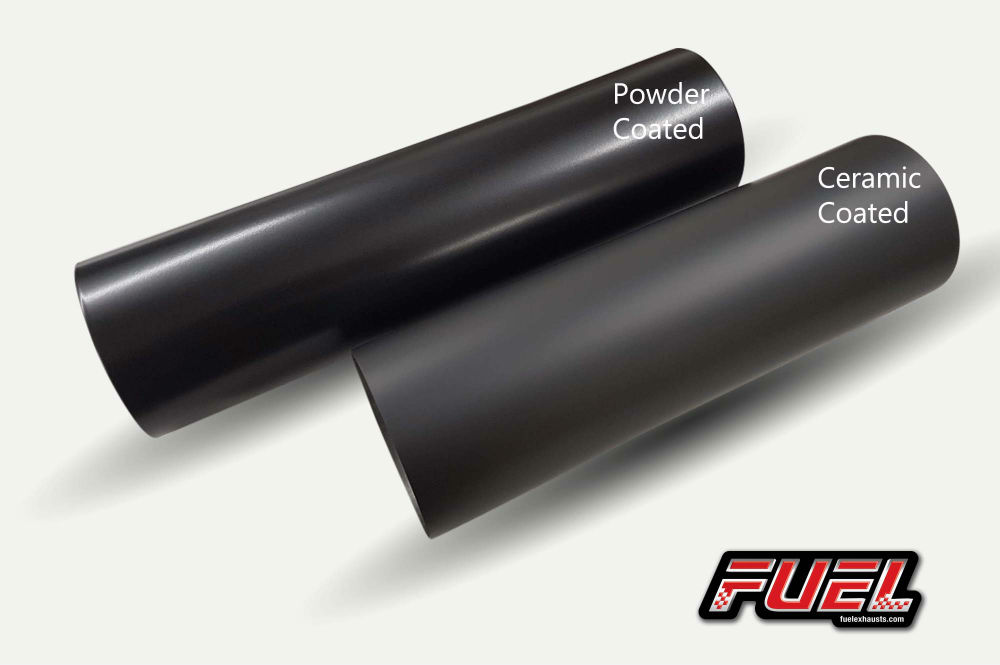 Essentially our exhaust body still uses the same high quality 304 grade stainless tube now ceramic coated in black. The finish is of matt appearance and has a smooth, even surface which can withstand temperatures of up to 1000°c.
Developed to prevent heat loss from your exhaust and to protect surrounding components, ceramic coating is a thermal barrier which is expertly applied via a polymer application. This process is undertaken after the exhaust has undergone surface preparation process.
The thermally stable polymer ceramic coating can reduce temperatures by up to 15%, which significantly reduces engine bay temperature and helps to keep intake air cooler.
Ceramic Coatings benefits include:
· Increased engine power
· Lower exhaust temperatures
· Protection for thermally sensitive components
· Rapid cooling qualities
· Improved Looks
· Better resistance to the elements
· Gases allowed to flow better through exhaust system
· Protection from rust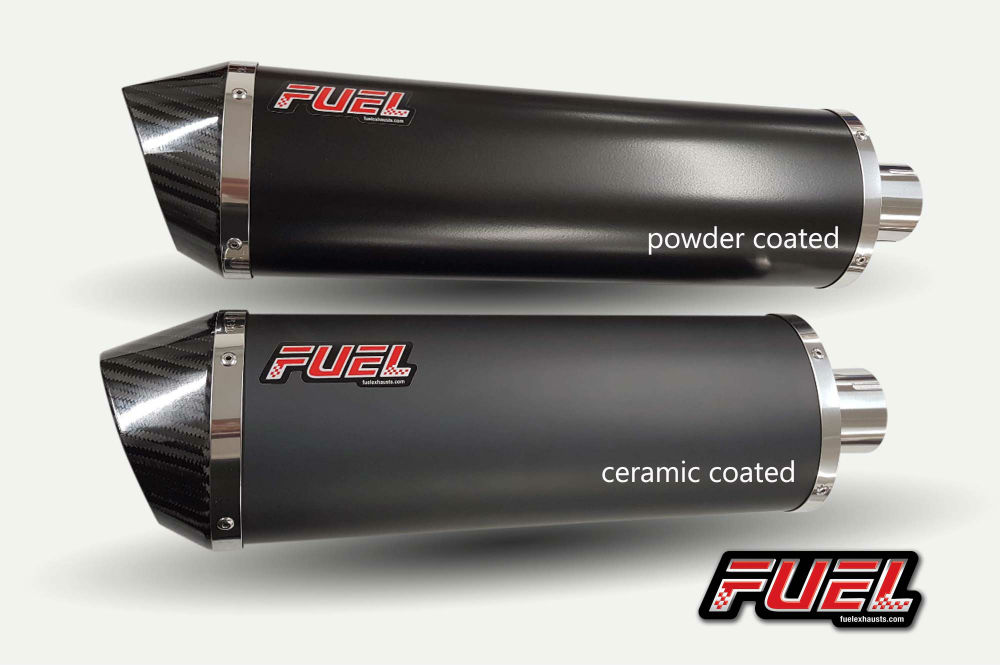 Of course, we will be changing all our black mounting bracket upgrades to a ceramic coating to ensure your motorcycle exhaust kit has a co-ordinating finish.
We have been supplying our KTM Adventure motorcycle exhaust ranges with a black ceramic coated finish for some time now. The feedback we have received from customers reaffirms our decision to move forward with ceramic coating… Henrikas purchased the F1R Road in ceramic black (with black bracket upgrade) for his 1290 Super Adventure in August. He says… 'Great exhaust for a good price. Looks nice and really good deep sound. Helpful and professional staff'.
It couldn't be easier to clean your ceramic black exhaust either… just wipe over with a clean cloth using hot soapy water.
ALL FUEL EXHAUST RANGES WILL BE AVAILABLE IN THE BLACK CERAMIC COATING FINISH FROM NOVEMBER 2018!