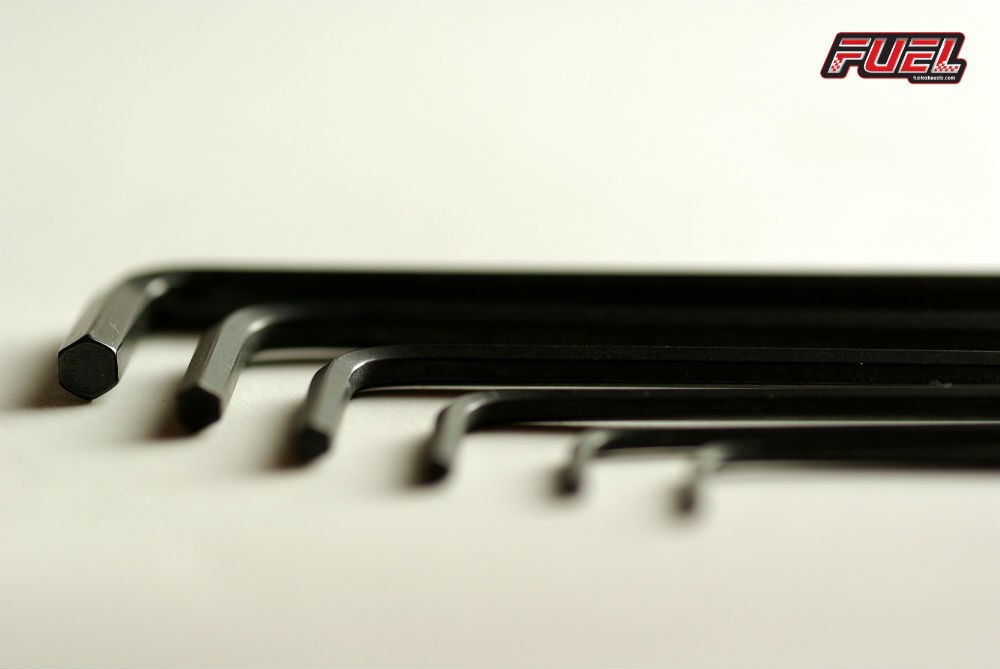 Fitting an aftermarket motorcycle exhaust
Posted in Industry Blogs
We've all been there. Super excited about that new 'easy to assemble' workbench that's just been delivered, and then seventeen hours and three skinned fingers later we're on the phone screaming at them about why half the brackets and bolts are missing. Or wrestling for ten minutes with that infuriating 'easy open' carton before spraying milk all over the kitchen.
So what's the story when it comes to the job of fitting an aftermarket motorcycle exhaust?
Here's what one of the independent online forums has to say about fitting a well known aftermarket exhaust brand:
"First off, make sure you have some time. It's going to take the better part of an afternoon. But, when your done, it's soooo rewarding. If you have a work bench, that will make the job soo much easier having the bike about 2' off the ground." (Their spelling, not ours!)
Hmmm, sounds like that's going to be a pig of a job then.

Precision engineering
Here at Fuel Exhausts, things are different. We know that our customers aren't just buying a beautiful British manufactured aftermarket exhaust from us. You're also buying an experience, and the job of fitting the exhaust is as much a part of that experience as the years of enjoyment and satisfaction which will undoubtedly follow.
That's the reason we build into our exhausts the kind of engineering precision which makes installing them a doddle. Fuel Exhausts are designed to fit easily and perfectly, nothing less and are supplied with fitting instructions to assist you, if required.
Here's an example of the instructions we can send out with your exhaust: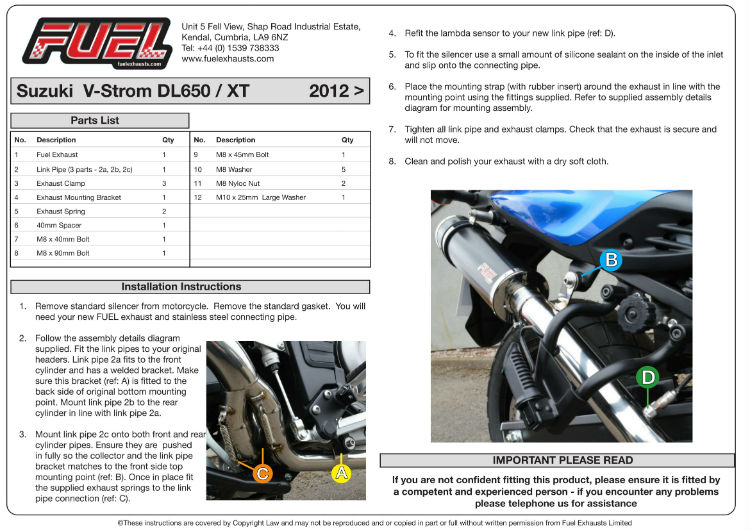 As to whether we succeed in that, here's what our customers, the guys who actually fit them, have to say about the process:
"I am seriously impressed. It took me less than 10 minutes to install the exhaust on the Aprilia Tuono and everything fitted so well. Great product. Thanks."
"Exhaust is really well made, I was very surprised with the workmanship and exact fit on the existing header pipe. Also bracket and mounting all spot on."
"Awesome sound and looks amazing. Very easy to fit so no extra costs for fitting. Quality is excellent."
"Just a quick note to say thanks for the exhaust. Delivered Monday as promised and fitted Monday night. Very well engineered – fitted exactly as it should, and everything required included."

Support if you need it
And in the highly unlikely event that you do hit a slight snag, then you can just pick up the phone and speak directly to the team who actually designed, built and despatched your exhaust – which is going to get the job sorted an awful lot quicker than trying to get through to a customer service desk outside the UK!
At Fuel Exhausts we don't believe our job is done the moment the box leaves our factory. It's only done when you're out on the road listening to that awesome growl.