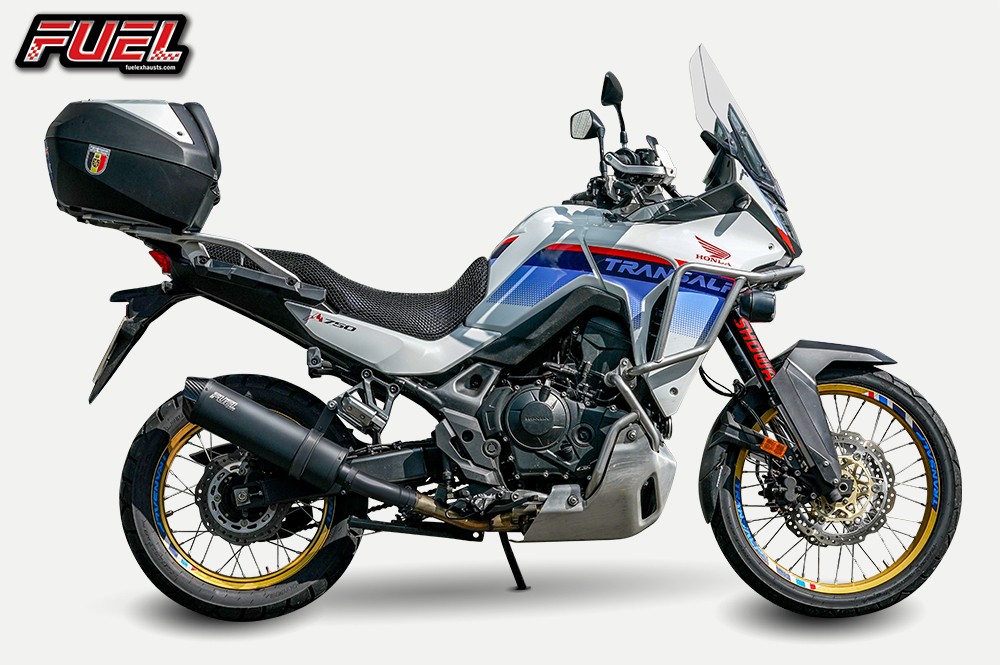 Honda Transalp XL750 Aftermarket Exhausts
Posted in Bikes
New Honda XL750 Transalp
As the adventure motorcycle sector continues its seemingly relentless growth, it's noticeable that there's an increasing amount of development going on in the mid-range bracket.
There's a lot to like about a bike that can do literally anything you ask of it – from forest tracks to green lanes to long distance two up touring – so it's no surprise that the manufacturers are investing vast amounts of effort and development to satisfy the ever-increasing demand.
And while we're all more than familiar with the flagships like the Africa Twin, the R1250GSA, the Multistrada V4, or the 1290 Super Adventure; there seems to be a growing realisation that these behemoths of the biking world aren't always necessarily the perfect choice.
They're amazing machines for sure. But they're also huge, they're heavy, and they're expensive.
With one of these class leading bikes, you'll certainly have a steed that will take you around the world with ease and comfort; but you'll also have no change left out of £20,000 once you've got it fully spec'd out, and you're likely to end up with a hernia if you ever have to lift it after a mishap.
Make life a little easier
So it's no surprise that people are increasingly opting for models which are just as capable, yet a little easier to manage and a lot easier on the budget.
Enter the latest contender in the mid-range category, the sensational 2023 Honda XL750 Transalp.
It'll cost you £5,000 less than its big brother, the Africa Twin. It's a whopping 30kg lighter, and you can easily knock another 2kg off that by fitting one of our awesome aftermarket motorcycle exhausts. And yet its 755cc parallel twin will still whisk you, a pillion, and a couple of weeks' worth of luggage around a grand tour of the Alps with ease.
If the press reviews are anything to go by, there's no doubt this is going to be a hugely popular bike, so last month we got one into our workshop to get it all measured up ready to develop and manufacture the link pipe and brackets necessary to develop and launch our range of aftermarket motorcycle exhausts for the Honda XL750 Transalp.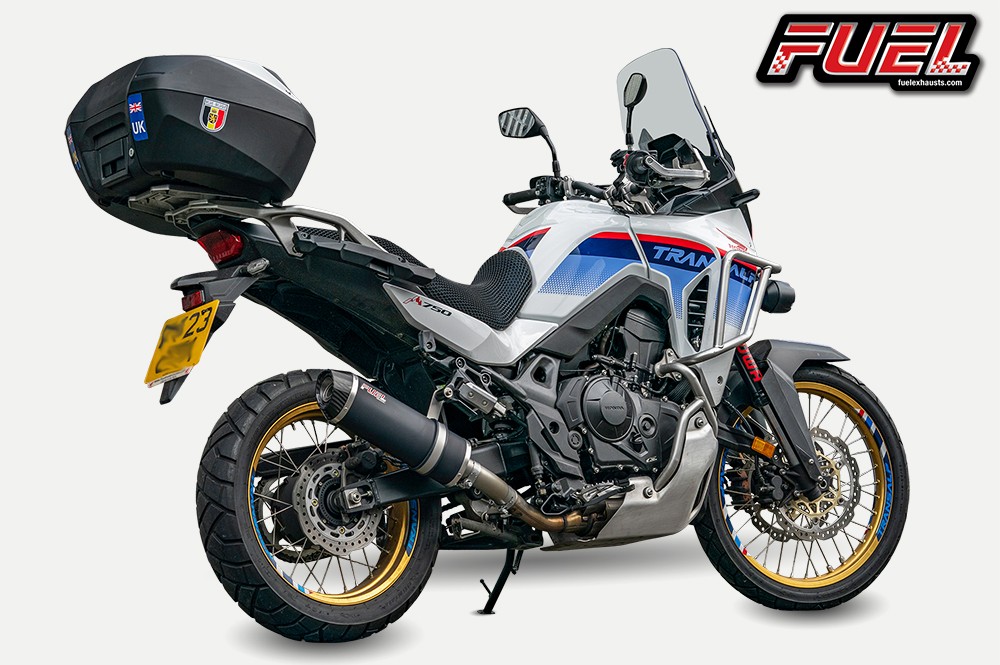 Ready and waiting
The design is complete, including a custom laser cut mounting bracket, the prototypes are perfected, and we're now busy manufacturing so you can be one of the very first to fit a superb, British made, aftermarket end can to your new 2023 Transalp.
No engine or tuning mods are needed, the exhausts look the business and fit perfectly even if you've got Honda panniers fitted, and of course the awesome sound of a Fuel exhaust really adds the ultimate finishing touch to what is set to become a market leading mid-range adventure bike.
Our aftermarket exhaust systems are now ready and waiting to be despatched, with oval end cans in 350mm (Mini) and 400mm (Midi) lengths and our full range of UK road legal styles and finishes. You can fully configure your exhaust on the Fuel Exhausts website, and of course we're always available by phone or email if you've got any questions at all.

View all the options available for your Transalp 750 and build your exhaust here.
See images of the Honda Transalp 750 fitted with different exhaust ranges here.