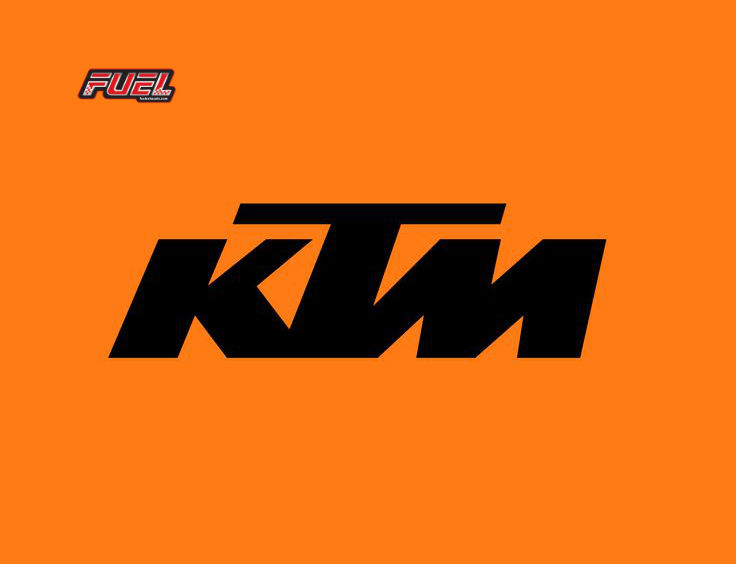 KTM bikes are even better with Fuel Exhausts
Posted in Bikes
Black. White. Orange.
To many people they're just three random colours. But to those who know, they mean a whole lot more. They mean thrills, they mean fun, they mean adventure, and most of all they mean KTM bikes.
This iconic Austrian brand of motorcycles continues to attract ever-increasing popularity within the biking fraternity, thanks in no small part to a reputation hard-won in the desert sands and on the mountain passes. But KTM's aren't solely adventure tourers and desert racers of course, with a range of models which cover the country lanes and the daily commutes just as much as they cover the overland adventures. And whether your ride is the nimble Duke 125, the mighty all-conquering 1290 Super Adventure, or any model in between, there's a wide choice of superb British manufactured Fuel Exhausts just waiting to make your machine even more special than it already is.

Dukes with attitude.
Looking a little closer at the Dukes, this range of naked bikes launched on the UK market in 2011 with a choice 125, 200, and 390cc single cylinder engines, and they've enjoyed a loyal following ever since. Our full range of aftermarket motorcycle exhausts are available to fit the Duke range, and in two sleeve lengths, so the options to give your Duke more bark, more presence, and more power are almost limitless.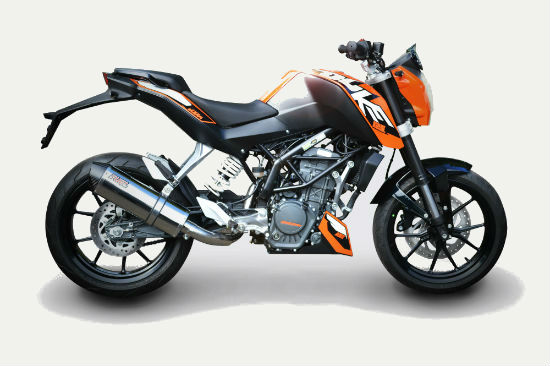 RC's get high level cans.
Moving on to the RC range, these brilliant supersport bikes launched in 2014 with the same choice of engine capacities as the Dukes. They look great, they ride beautifully, and with the addition of a Fuel aftermarket exhaust system, they sound spot on too. We manufacture high level exhausts for the KTM RC range of motorcycles which really add to the sporty race styling of these machines, and our full range of aftermarket exhaust styles and finishes is available so you can specify the look which suits you and your ride to perfection.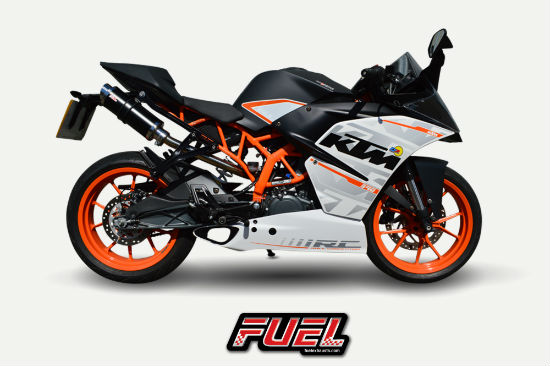 Ultimate Adventures.
Way back in the 1990's, the KTM Adventure range was born, and has since become the stuff of legend. The current offerings include the 1050, 1090, and 1190cc Adventure models, and all of these superb dual-sport touring motorcycles will take the complete range of road legal Fuel Exhausts, giving you maximum choice when it comes to customising the look of your bike and adding that distinctive throaty growl to your riding experience.
And finally there's the daddy of them all, the mighty 1290 Super Adventure. This ultimate dual-sport performance tourer first appeared in 2015 to great critical acclaim. There's literally nowhere you can't go on this bike, but wherever your adventure takes you, you'll get even more satisfaction with the perfect note of a Fuel Exhaust as your companion. Our full range of styles and finishes is available to enhance your 1290 Super Adventure, and you can custom build your perfect pipes today here on the Fuel Exhausts website.