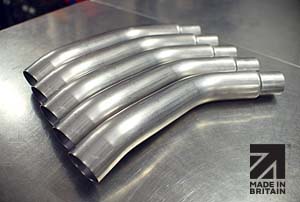 Manufacturing Pipework for Motorcycle Exhausts
Posted in Industry Blogs
Here at Fuel Exhausts, we're very proud indeed to be true British manufacturers and we certainly show this in the quality of our workmanship. We've said it before and we'll keep on saying it – Fuel Exhausts are British. All our raw materials and components come exclusively from British suppliers, and the exhausts are built from scratch in our British factory. And because we know where it all comes from, and the entire manufacturing process from start to finish is carried out here in our own factory by our own engineers, we're able to put our money where our mouth is and give all our aftermarket motorcycle exhausts a rock solid lifetime guarantee.
That's proper British manufacturing. Built to perform and built to last. And definitely not to be confused with some other aftermarket exhaust manufacturers in the UK who falsely promote their exhausts as being British made, when in fact they're sourced and assembled overseas, imported, and shipped out to customers without so much as a screwdriver being involved.
We thought it would be interesting for you to see us in action and over the upcoming months, we will upload videos showing the different jobs we undertake when making an aftermarket exhaust. This video shows how we manufacture the link pipes and pipework for the exhaust silencers. We use 304 grade stainless steel tube for our link pipes and have included the process in a short video from raw stock material through to a finished link pipe ready for media blasting.
We work the traditional way here using mostly good old reliable machines and tooling. Our pipe bender is a manually operated hydraulic mandrel tube bender which is over 30 years old. We do have some modern machinery and when you watch the video you will see some of those machines in action.