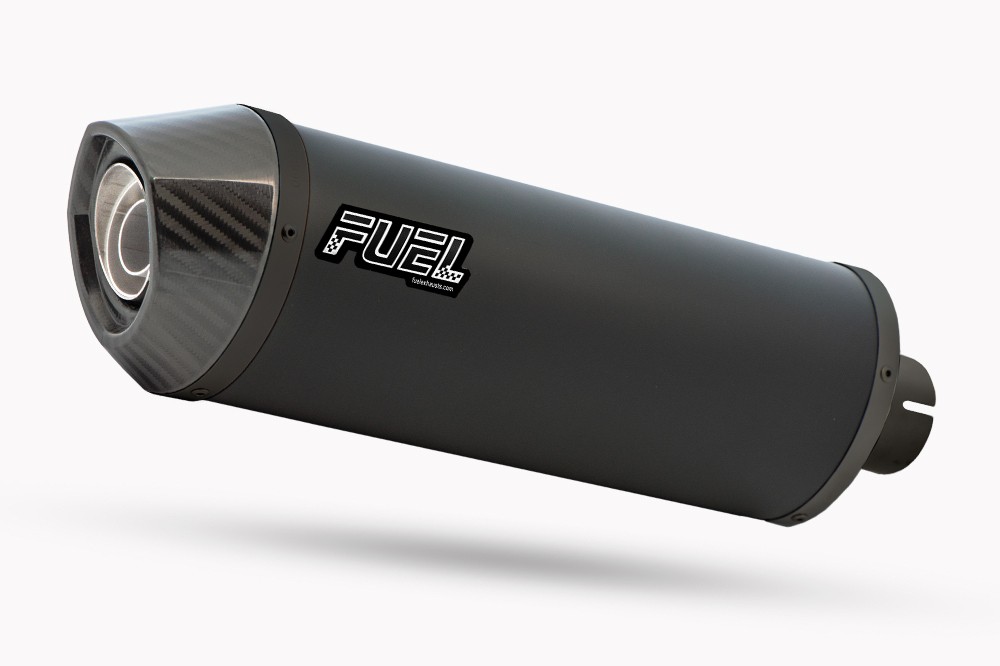 STEALTH Exhaust Range - Available NOW
Posted in Fuel News
Our Darkest Secret Is Out.
We've been burning the midnight oil, pushing the limits of styling, experimenting with finishes and testing prototypes. We've been exploring the dark side.
Finally, our creation is unleashed. We proudly bring you – STEALTH.
We've taken the design template of our hugely successful growling beast, the oval Diablo exhaust, and we've gone extreme with it. Diablo means Devil, and the look of this brand-new aftermarket motorcycle exhaust is nothing short of menacing.
STEALTH is the all-black monster with a mean, brooding presence and a deep throated roar. Every component, from the carbon end cap to the main can and the mounting bracket, right down to the trim, the clamps and the rivets, is finished in black. Even the distinctive Fuel badge gets a special black and silver treatment, unique to just this one model.
STEALTH looks incredible, and it sounds wild. Slick, dark, edgy, beautiful.
Options – black or black.
You can opt for either matt black ceramic coated stainless steel or sleek carbon for the can, giving you two choices of finish. You can even go all out and complete the ultimate styling treatment with the optional black ceramic coated stainless steel link pipe (and we suggest you do, because it really completes the awesome look).
STEALTH is the result of pushing styling to the extreme. It's simply the meanest motorcycle exhaust there is.
And it's built by Fuel Exhausts, which means that behind those stunning looks you'll find the finest quality British manufacturing. This thing is hand built from scratch in the UK, all the stainless steel used is 304 grade – the best for the job, and the ceramic coating not only delivers the stunning look but also improves performance and protects adjacent components. Quality is what matters most to us, at every stage of the process. Nothing leaves our workshop until we know it's perfect.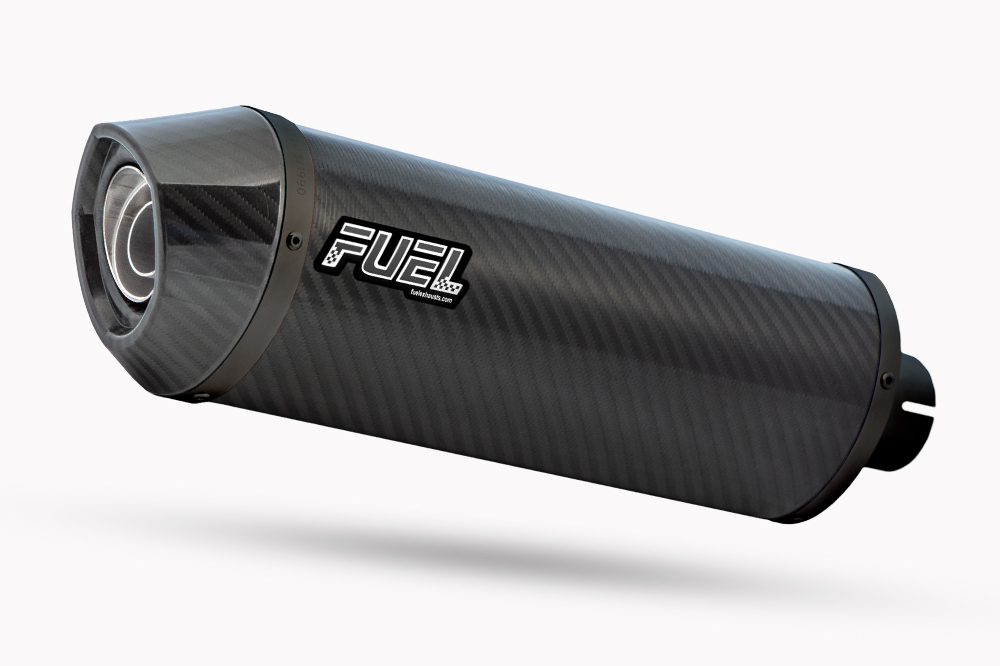 So what's the real-life verdict on STEALTH?
Leading motovlogger Mr Fish was the first rider in the world to run STEALTH on a bike. His verdict? "That is sex on a stick". Check out his YouTube clip here and see exactly what he thought of it.
In fact, we can tell you that everyone who's seen and heard it in the flesh is just blown away. Their reaction is always the same – "I want one".
Get yours.
STEALTH is in production right now with the first batch of orders leaving the factory first week of July 2022. Place your order online or telephone the office if you wish to chat through the options of this incredible new aftermarket motorcycle exhaust system for your bike model.
START BUILDING YOUR EXHAUST NOW!