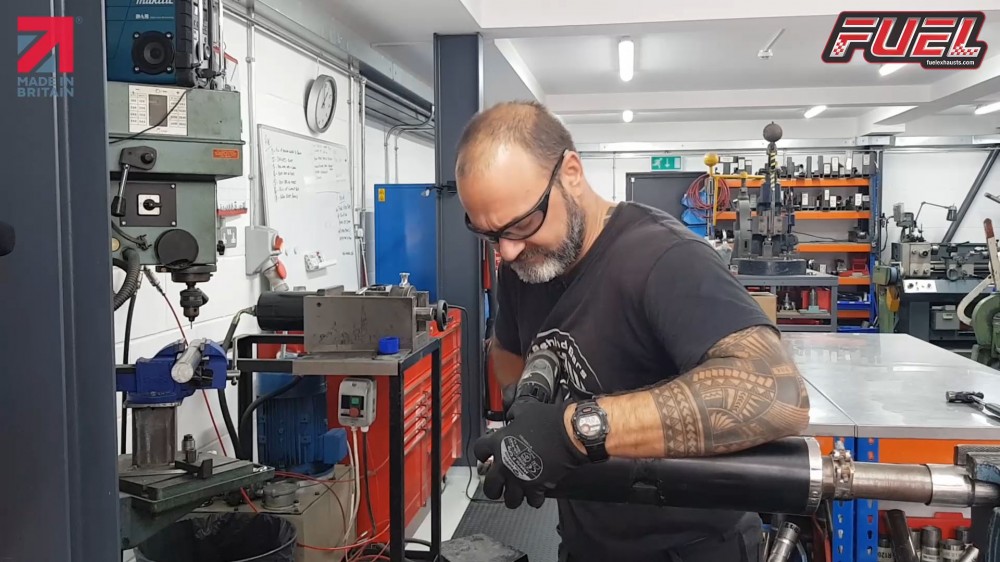 Repacking & Resleeving Motorcycle Exhausts
Posted in Industry Blogs
Part of our Fuel Friday series, this video shows how we repack and resleeve our aftermarket exhaust silencers. We also give this motorcycle exhaust a bit of a refurb by media blasting the end caps and link pipe.
The video covers the following important points...
How to check if your aftermarket exhaust needs repacking
To take the exhaust silencer apart, drill out the rivets on the inlet end
Remove outlet end cap
Remove the old used exhaust packing / wadding material
Drill the inlet end of the exhaust
Remove exhaust body / sleeve
How we media blast the existing inlet and outlet
The differences between powder coating and ceramic coating
Mark the end caps to indicate where the existing holes are located
Add a silicone based sealent to the inside of the inlet end of the exhaust tube / sleeve
Line up and fit the internal end cap and perforated tube section inside the sleeve
Using stainless steel wirewool
Using exhaust packing material - wadding
Insert the wirewool and exhaust wadding into the exhaust sleeve
Refit the outlet end cap and line up appropriately
Refitting the rivet band - drill and rivet in the first hole
Drill all other holes and rivet in place
Tap down the edges of the rivet bands
Fit the heat resistant Fuel Exhausts foil label / badge
Final clean
We carry out repacking (and resleeve and refurbishing) of our own silencers in house and turn such jobs around within 3 working days. Get in touch if you want a quote - info@fuelexhausts.com.
Our packing material and repacking kits are available to purchase online here and are usually despatched within 1 working day.
PLEASE NOTE WE DO NOT REPACK OR RESLEEVE OTHER BRAND EXHAUSTS.
Interested to see more..? Check out our other blogs of manufacturing demonstations and if you wish to learn more about Fuel Exhausts overall, check us out here.