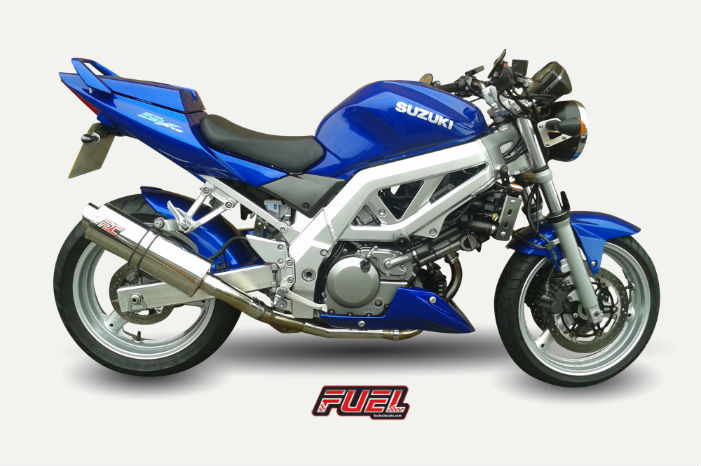 Suzuki SV650 Aftermarket Motorcycle Exhausts
Posted in Bikes
One of the best ways to know if a bike's any good is just to look at the numbers; and with more than 20,000 in the UK alone, and ten times that number worldwide, it's safe to say that the Suzuki SV650 is definitely a great bike.
Powered by an absolute pearl of a V-twin, its relatively simple construction manages to achieve sublime ride and handling; and even a brand spanker straight out of the showroom comes in at just a gnats over five and a half grand. What's not to like?
This ubiquitous street bike has been a consistent hit with reviewers and riders alike, and the comprehensive redesign in 2016 has made sure the latest models stay right at the top of the best sellers list.

Upgrade to a Fuel Exhaust
As you'd expect, aftermarket motorcycle exhausts from Fuel are one of the most popular upgrades for the SV650; delivering more power, less weight, awesome styling, and that phenomenal Fuel Exhausts growl.
And getting your SV650 kitted out with one of these sensational aftermarket exhausts couldn't be easier.
The first step is to click onto the Suzuki section of the Fuel Exhausts website, select your model and year of manufacture, and then have a good drool over the massive range of exhaust options available. For the SV650 your style choices include the Classic and Slash exhausts, the meaty F1R in both Road and Race options, and the mean-looking Diablo.
Once you've decided on your preferred style, you can then pick from our full range of shapes, lengths, materials, and colours, to design a truly custom exhaust for your bike. You can choose oval or round end cans, in mini or midi lengths, made from stainless steel, titanium or carbon fibre; and with finishes available in brushed, polished or black stainless, plain or coloured titanium, and of course natural carbon fibre.

Just look at this bad boy...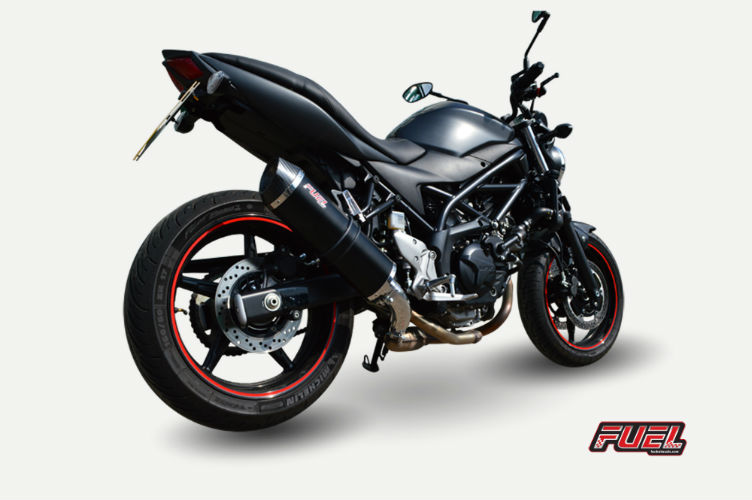 Don't take our word for it
Decisions made and order placed, there's not long to wait before the fun really starts. Your new exhaust will normally be with you in a couple of days (based on your shipping choice), and fitting it is a doddle thanks to the precision engineering and clearly laid-out instructions.
Fuel customer, Anthony, sums it up perfectly, saying:
"Wow what can I say. Looks awesome, sounds awesome, fitted in 10 mins and super-fast delivery. Thanks."
Time to get your gear on and get riding! By now you'll already know how good it looks on your bike, and the moment the engine fires into life you'll hear that amazing Fuel Exhausts sound, which just gets even better as you hit the open road and give it some beans. And it won't be long before you feel the extra performance due to that weight saving too.
As James, another happy SV650 owner, says:
"Great quality product, easy to fit, and looks and sounds great on my bike."
There's not much we can add to that really, thanks James.

Finally... watch the video
This video shows a comparison between the OEM stock silencer and a Stealth ceramic black oval mini exhaust (with black link pipe) on a 2022 plate Suzuki SV650A owned by YouTube sensation EnglishBikerDan. This exhaust is UK road legal and fitted with a removable baffle for when you want to unleash more noise and power.