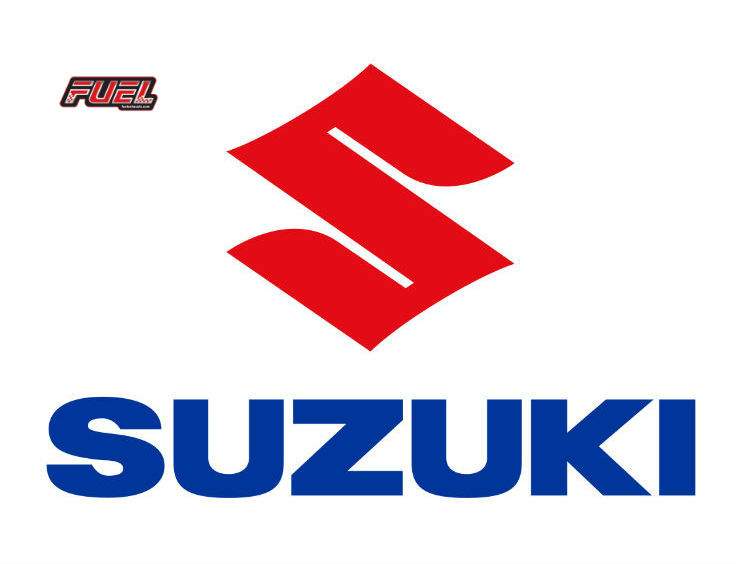 Your Suzuki Motorcycle Needs A Fuel Exhaust
Posted in Bikes
Suzuki are omnipresent throughout the biking world. You'll find them on the race track, the high street, the open roads, the mountain passes and desert trails, and at every local biker meet.
There's no doubt that Suzuki are one of the pillars of the biking establishment, and the reason is simple – they make great bikes.
And just like every other marque, as good as it is when it rolls off the production line, there's still room for improvement, modification, and personalisation to add the special touches which make it your Suzuki; and there's no better piece of kit you can add than a superb aftermarket motorcycle exhaust from Fuel Exhausts.
Because Suzuki produce such a vast range of models, you'd expect us to produce aftermarket exhausts for quite a few of them. And we do.
It would take a book rather than a blog to cover them all, so let's take a closer look at just a few models to give you a flavour of what a Fuel Exhaust can do to enhance your own Suzuki motorcycle:

SV650
The much sought-after Suzuki SV650 street bike first appeared in 1999, and the 2016 third generation looks set to maintain its place as one of the most popular sports bikes on the market.
Now if there's one thing which that V Twin motor is crying out for, it's to have its thunderous sound properly unleashed. Fit a Fuel Exhaust to your SV650 and you'll see, or rather you'll hear, exactly what we mean. Every single one of our aftermarket exhaust ranges is available for the SV650, and in a wide variety of sleeve lengths and colours, so your options are almost limitless, and whatever you choose you're always going to get that legendary Fuel Exhausts growl.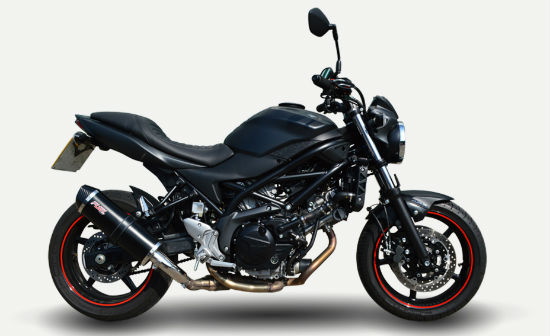 GSF1250 Bandit S & GT
One of many Suzuki models to carry the Bandit badge, the 1250S was introduced in 2007 with the Grand Tourer launched in 2008. The GT sports hard panniers and satnav as standard equipment and ABS as an option, there's no doubting what this bike is built for!
In their bid to make long road trips as comfortable as possible, Suzuki also decided to make the GSF1250 Bandit really quiet. But you know, and we know, that silence isn't always what you want. Sure, an ear-splitting roar is going to get tiresome after long hours in the saddle, but a deep satisfying growl – now that's a great sound to have along for the ride.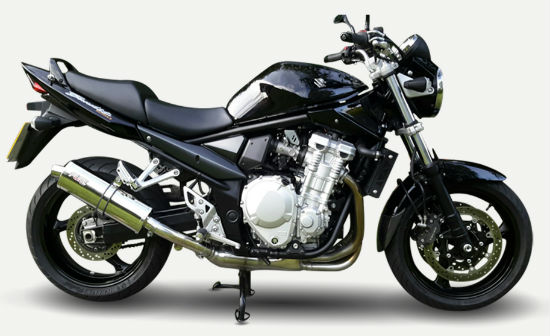 V-Strom
We think even the name of this model sounds awesome, so it certainly deserves an exhaust which sounds just as good.
Whether you ride the V-Strom DL 650 sports tourer, or perhaps its 2014-launched big brother the V-Strom DL1000 Adventure, all of our UK road legal aftermarket exhausts are available in all finishes, styles, and sleeve lengths to give your V-Twin powerhouse that beautiful Fuel Exhausts sound.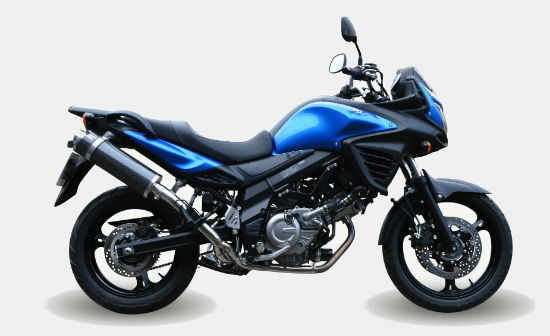 Build Yours Today
We make aftermarket exhausts for well over thirty Suzuki motorcycle models with masses of shapes, finishes, styles, and sleeve lengths to choose from; so visit the Suzuki area of our website and build the perfect custom exhaust for your bike today.