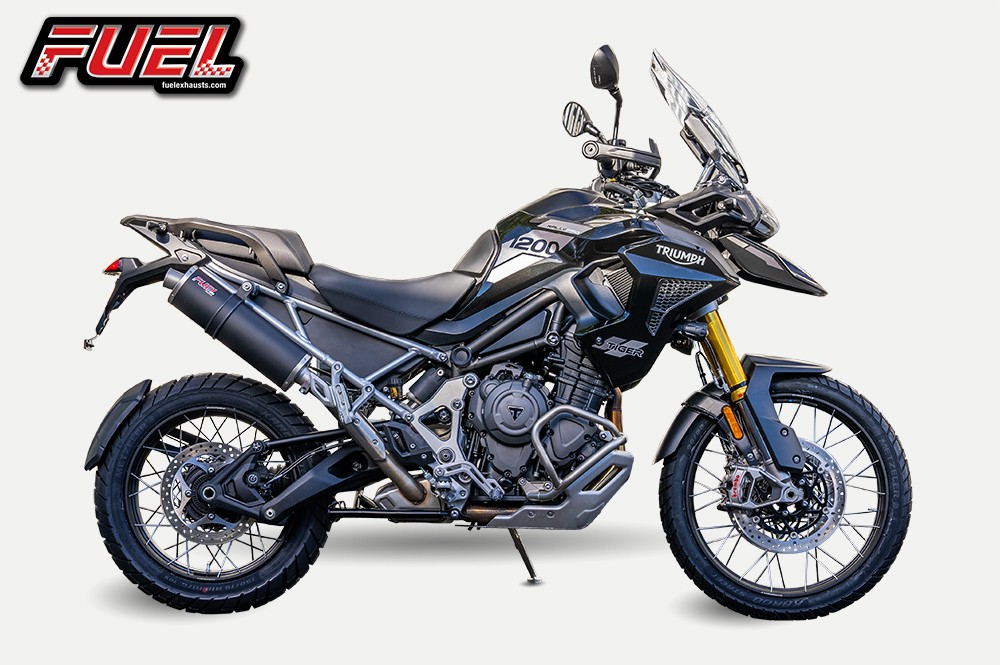 Triumph Tiger 1200 Rally / GT / Pro / Explorer Exhausts
Posted in Bikes
We were lucky enough to get our hands on a brand new unregistered 2022 Triumph Tiger 1200 Rally Pro, thanks to our friends up at KC Superbikes in Carlisle.
Looking over the bike and in particular the OEM exhaust system, we were surprised to learn the header, catalytic convertor and rear pipework is all one piece up to a disconnection point at the start of the silencer box.
During the R&D process, it was apparent that exhausts with a straight outlet may cause heat issues for the rear indicator. As the new exhaust fits directly onto the OEM pipe in an upswept angle, there is no movement or option to change the direction or position of the final aftermarket exhaust fitment. We tried a number of ways to improve this but were left frustrated that it is not possible with our current Stealth, Diablo, F1R Road or Slash ranges.
We are pleased to be able to offer the Classic range of exhausts for all the new Tiger 1200 model variants and can confirm following plenty of testing, there will be no issues with this fitment. And of course, there will be that distinct Fuel exhaust note from your new silencer!
As a slip on exhaust fitment, fitting is easy on the Tiger 1200 GT / Rally models but for those wanting a bit of guidance, full fitting instructions are supplied for peace of mind. As a direct replacement for the Triumph genuine silencer, no engine mods are required when fitting our exhaust. The Fuel exhausts for this Tiger 1200 utilise a bike specific fitment and are not designed to be used on other motorcycle models.
You can build your own British made motorcycle exhaust online, with a selection of sleeve finishes to suit your preference. Available as UK road legal options with removable baffle for that extra Tiger grumble!
PLEASE NOTE - THIS EXHAUST DOES NOT FIT WITH THE OEM EXPEDITION PANNIERS.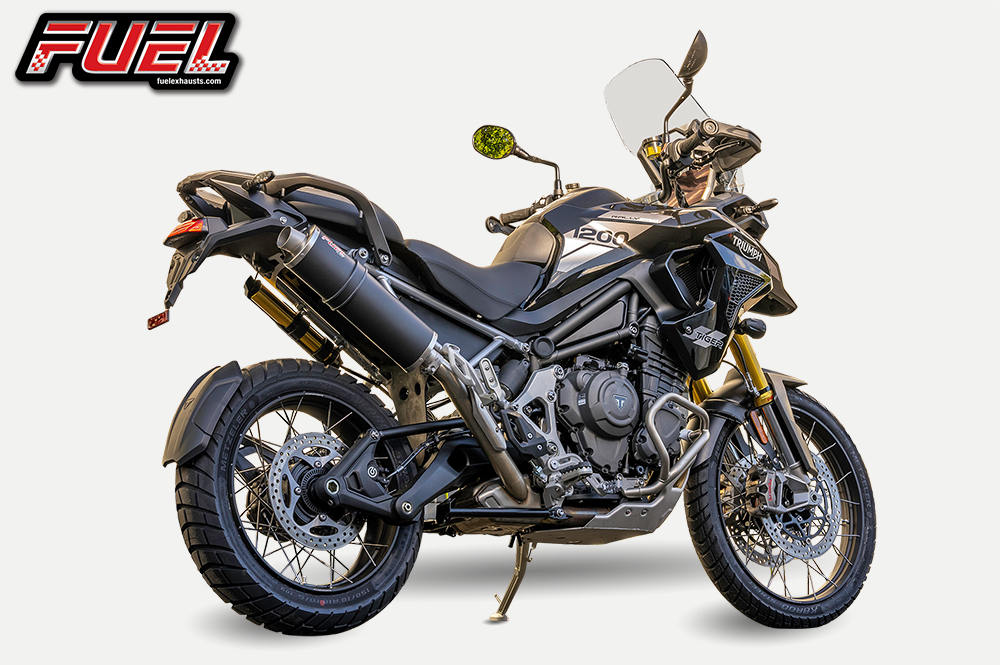 View images showing Fuel exhausts fitted to the Triumph Tiger 1200 Rally / Pro models here.
Check out the options available for your machine, build and price up your own Triumph Tiger 1200 exhaust here.